--------------------------------------------------------------------------------------------------------------------------------------------------------------




Soki and Pippi Puppies from Past Litters (& Candi and Gina pups)

Mookie, longhaired silver sable girl at 6 months. 70 lbs. TN.

Hans-golden sable boy. NH.

Ben, golden sable boy lives in ID. 

 Savine, black and cream pup. WY.

Stormy and Mookie, Silver Sable girls at 9 weeks. 

Odin and Arco, at 4 weeks. Live in VA and WV.

Gretchen at 12 weeks. Silver sable.  MD.  

 German Shepherd puppy pics from Soki, Pippi, Gina and Candi's past litters.

 Arko at 10 months. 102 lbs. WV.

  78 lbs now at 7 months. ID.

"Im pleased to report that Chewy is at the head of the class in his puppy classes. Chewy totally rocks!!! Chewy walked around the cones...He's got the sit, sit stay (5 minutes now), down, down stay, perfect leash walking, wait and sit calmly 2 feet away from other dogs down pat and the come command. He's got the stay command down with me standing 15 feet away from him and hes mastered the settle command. I really cant say enough about Chewy. I love coming home and seeing his little face when he comes running up to me just to fall at my feet to wait for his tummy rub. He definitely keeps me on my toes. All the other dog owners in my neighborhood keep telling me that I dont know how lucky I am to have such a smart, low maintenance dog. I tell them that I knew dogownership was going to be alot of work, and that I was worried at first, but that it has been a breeze for the most part. I cant tell you how quickly he catches on, and how well behaved he is. My parents never really liked dogs and never wanted them in the house but when they came for a vist and they met Chewy my Mom picked him upand hugged him and my Dad was instantly smitten. I just wanted to let you know what a GREAT dog we got from you. Chewy is absolutly the best!!! He's made dog ownership the absolute best!!! Denise" 

" 'I'm proud of you girl!!!' - Denise was a first time Shepherd owner!" Sandy

VERY MUCH THANKS to ALL of our puppy owners for providing such loving homes for our puppies.

Stormy 6 months 1 week 68 lbs. w/Dally 1.5 years.

'Took Mookie to the vet today and she weighs 55 lbs. at 5 1/2 months. 'She is a beautiful dog and I get lots of compliments where ever we go'...'We love her sooooo much -- even my husband, who didn't want a dog, thinks she hung the moon...Michelle'

Ben at 4 months.-The GOLDEN BOY! Golden Sable. 

Stormy Stormy is 100 lbs. 110 now.

Congrats to Gretchen! (and her human parents) Gretchen just graduated from adv. puppy classes.

Longhaired German Shepherd Dogs

Chewy at 1 year 4 months old. VA.  

-----------------------------------------------------------------------------------------------------------------------------------------------------------------------------------------------------

Click below to go to Candi and Gina's puppies page


Echo at 3 months 1 week 36 lbs.  


We are the Breeders of Echo. She is a black and cream long coated German Shepherd from our Soki and our Dallas. One of the few puppies we placed with another breeder- Genesis Long Coat German Shepherds Kennels- before we went with all limited registrations. Echo at 7 months 75 pounds. Owned now by Laura Thacher at Genesis GSD'S Kennels  
Willow at almost 4 months old. NJ.

This page was last updated on: July 10, 2023
'Porthos is going to be a big, gentle teddy bear of a dog. He definitely has a natural instinct to protect his family and home. He is still eating Innova and his fur is so silky he feels like a rabbit rather than a dog. I hope it stay this way. His colouring is still predominately sable with black markings on his back and a very pronounced image of a thunderbird on his tail.' Shawn

STORMY pics below in row #6.

Chewy is currently 117 lbs. and 29 1/2" tall at almost 2 years old. 

Pic of Ben at 1 year old. A rare golden sable. Very light sable just like his momma! Was 95 lbs at 9 months old.

Golden Sable longhaired German Shepherd boy.

'Hi Sandy, I'm so glad I found you on the web. I would recommend anyone I know looking for a sheperd to call you. You have done a great job. Penny is a very good girl. She is pretty mellow tempered, not too active at all. She does love to run around the back yard with the kids though. I keep telling my husband if she's this laid back as a puppy, she's going to be a lazy bones when she is an adult.  :) She also knows "easy" taking treats from people's hands. She is so gentle she barely takes it sometimes. I will keep in touch. Diane"

Chewy at 1 year and 3 months. 106 lbs. 29 1/2" tall. 

 Gretchen at 1 year 3 months old. 

Another pic of Gretchen. 1 year 3 months.

NEW Willow at 1year 2 months. NJ

LOOK whos here!!  A pic of Hans! A Golden Sable boy too!

Pippi Puppies are on a new page. Click below. 


Ayer's Long Coat German Shepherds

New button at bottom for PIPPI'S most recent past litter pics following this page.    

Rylee at 9 months old. NH. Rylee and Yukon both live together in NH.

Yukon at 9 months old. Yukon and Rylee both live together in NH 

 NEW Cagney at 10 months.OH. 

With her Holee Roller Ball.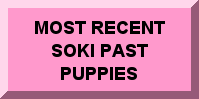 "By the way, my trainer was telling me that Chewy is a one in a million shepherd! She said that I was really, really lucky that I got a dog as mellow as he is especially him being my first shepherd. I told her that the majority of your dogs were like that. Anywho, just wanted to drop a line and let you know that I still think you and your dogs rock! ...Denise"

"Everybody in the class asks me about him:" (Chewy) "where did I get him, how old is he, is he always this mellow, etc. He's doing really well in his class and in his private lessons as well. He heels like a dream, sits straight, and does the transitions in gaits (slow, fast, regular) amazingly well. It takes him seconds to understand new  commands. I taught him to stand in the stack position in like 3 minutes and he does it with either the hand signal or the verbal command.... 

He's amazing and I can't wait to start getting some high scores in the shows. Denise"

 Willow at 1 1/2 years old, with her momma/owner.

"Sandy-I just want to tell you what a wonderful dog Willow is. She just turned 16 months and has matured into a loving, smart, playful, beautiful and loyal companion.  Your breeding efforts have certainly paid off.  All my friends just love her and she loves them in return.  She's gotten into the habit of bringing a toy to anyone who comes into the house, hoping that they'll play with her.  Her favorite toys are balls and you should see her catch them and play soccer!  She leaps high in the air to catch even the largest balls.  She's thrilling to watch.

 I am so happy that I found you on the internet.  Willow has added so much pleasure to my life. Helene"

Very golden sable longhaired German Shepherd.